Anemos Luxury Grand Resort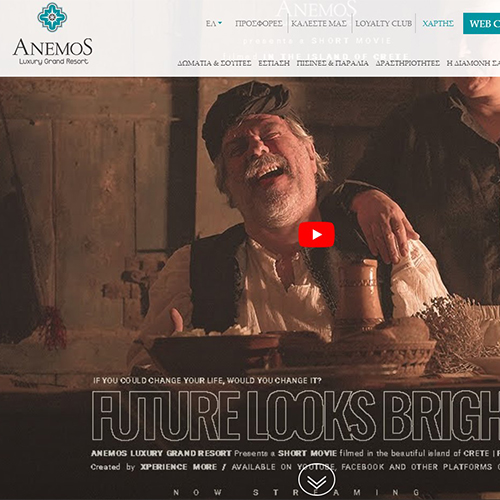 The Anemos Luxury Grand Resort is a new 5-star hotel with luxury suites and a spa in Georgioupoli, Chania, next to an expansive sandy beach in northern Crete.
The challenge:
We started working on the hotel's digital marketing even before it opened its doors, when the only tool available for direct sales was its photorealistic images. We had to work methodically to build brand exposure and reach the appropriate audience with adverts (Google Ads, Facebook Ads). At the same time, our challenge was to achieve a high return on ad spend (ROAS).
Goals
We began by creating a one-page site with photorealistic images of the hotel and developed an integrated strategy for brand exposure (press releases, Google Ads, Facebook Ads, and others) for a specific target group, while also striving to generate website traffic.
We then designed the hotel's new website with quality content, and continued with actions to increase brand exposure, ROAS and visitor traffic. We also created a newsletter to maintain contact with hotel guests.
Results November 2018 - October 2019
Google Ads:
ROAS (Return on Ad Spend): Every € 1 we spent on advertising brought back € 29
Impression Share: 91%
Impressions: 4.500.000
Number of Keywords: Over 1.200
Direct Bookings: 12% of the total Turnover. The Official Website was the 1st channel with over 60% of the total Online Sales
Facebook Ads:
ROAS (Return on Ad Spend): Every € 1 we spent on advertising brought back € 18
Impressions: 7.500.000
Reach: 1.500.000
Other Case Studies